NEW YORK CITY

International Center for Positive Change and Hypnosis Presents:
Join Top Hypnosis and NLP Trainers Sarah Carson and Jess Marion in New York City For An Amazing Journey Of Transformation.
"Discover How You Can Successfully Change People Fast As A Professional Hypnotherapist OR Covertly During An Everyday Conversation"
This foolproof system for hypnotists is staggering. It means…
You'll Be Able To Handle ANY Situation With Anyone!
You'll Always Know What To Do In Any Hypnosis Session
You'll End All Guesswork & Never Get "Stuck" Again
You'll Be Totally Sure Your Hypnosis WILL Be A Success
You'll Also Have The Option To Get CERTIFIED Like This...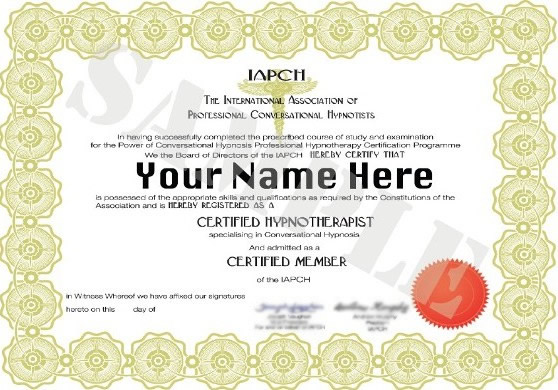 Join us in New York City for our upcoming Conversational Hypnosis Professional Hypnotherapy certification course.
Sarah Carson and Jess Marion have studied extensively with Igor Ledochowski (the founder and developer of this Conversational Hypnosis Certification Course) and have been trained and endorsed in the Ledochowski Protocol. Hence, we have decided to bring this highly effect hypnosis system home.
There are just a select few, hand-picked trainers in the world licensed to teach Conversational Hypnosis and Sarah and Jess are 2 of only 24 trainers who are eligible to train you in this method. We are held to the highest professional standards by the International Association of Conversational Hypnotists and are outstandingly qualified to provide you with the finest training opportunity available.
Our comprehensive immersion style hypnosis training has been proven time and time again to be the consummate way of learning hypnosis. Conversational Hypnosis is the most advanced formula of hypnosis on the planet. Once you learn the 4-step Ledochowski protocol you will be well on your way to hypnosis mastery.
Conversational Hypnosis is a dynamic method that allows you to administer hypnotic suggestions in a normal conversation. It is an incredibly powerful technology, that can be learned in a relatively short training period. It is rapidly becoming the high leverage technique of choice for many therapists, coaches, healing professionals, massage therapists, sales people and a host of other professions.
If you're finally ready to unleash your inner hypnotic genius and become a master influencer who can change people fast, then we have some exciting news for you.
We will be holding a Conversational Hypnosis Professional Hypnotherapy Certification Weekend Training Course in Feb 2014
AND
We have added a BONUS WEEKEND COMPLETELY FREE OF CHARGE
This bonus weekend will take you through all the fundamentals of tradtitional hypnosis from Progressive relaxation to The Elman Induction. Just imagine having the fundamentals of hypnosis PLUS the elegance of a converational Hypnotist...you will be a powerhouse for Transformational Change!
Weekend Format Feb 1/2, 8/9, 15/16 22/23 2014
10:00 a.m. - 6:00 p.m.
The investment for this course is $1997
(Plus a $15 Certification Fee for those certifying)
"This is the best Financial Investment I have made"
"As a nurse, I know that I must learn the fundamentals to be a safe working nurse. To be a specialist I needed more education. That is how I felt about my primary Hypnosis training. I wanted to be a specialist, so Sarah and Shawn Carson provided me with that education and skill with their outstanding CHPH Training course."
"The knowledge and skill they provide is truly outstanding. Not only do they teach, but they nurture and encourage the growth of your talents."
"My fellow hypnotists and clients have commented on the positive change in me."
"I thank the Carson's for their outstanding program. This was the best finincial investment I have made."
Mercedes Herman, RN, MSN, CH
CHPH Certified Hypnotist, NLP Master Practitioner

We are opening the doors to a limited number of aspiring hypnotists and hypnotherapists, to upload as much world-class expertise into your brain as we can cram into this training.
6 full days, JAMMED full of top-class training. And limited in numbers to ensure you have all the feedback and personal assistance you could possibly need to catapult your abilities to the very next level.
In a nutshell, it's designed to give you the skills and understanding to perform hypnosis naturally, elegantly and effortlessly. It's called The Conversational Hypnosis Professional Hypnotherapy Certification Program.
What You'll Discover...
The real secret to being not just a good hypnotist, but truly exceptional, elegant and irresistible…the kind who gets wildly enthusiastic testimonials from every client
How to get people into trance without doing an induction at all…you'll be amazed at this simple technique
Learn the Hypnotic Blitz, Mind Bending Language, Dynamic Mental Imagery Induction ...and more
The secret pattern of influence used by salespeople, politicians, orators, and storytellers for thousands of years. You will be amazed at the power of this simple pattern
The exact words to say so that you set up the right conditions BEFORE you start your induction
How to perform both overt AND covert change work
The most important part of every conversational induction, that will make it undetectable every time
The "4 Primary Patterns Of Hypnotic Therapy" to deal with pretty much ANY situation you might come across
How to ensure your hypnosis work "sticks" and succeeds…every time
A true "cover-all-areas" process that allows you to do change work totally covertly without even knowing what your client's problem is
How to spot when it's right to delve into someone's past, and when to leave well alone
An extremely effective and conversational "stepping stone" technique for all occasions
The key core pattern that takes care of 80% of ALL situations your clients will come in with (and 3 more methods to quickly clear up the remaining 20%)
A powerful technique to alter your client's state of consciousness even when they realize what's going on
How to turn the induction INTO the actual change work itself, saving you tons of time, boosting your success rate, and allowing you to spend the rest of the session "installing" the change
The simple steps for making language patterns "second nature" to you. People will marvel at your eloquence and listen "spellbound" to your every word
A little-known principle to make your inductions irresistible. The secrets of the "Non-Awareness Set". This one technique approach is one of the cornerstones of the training, enabling you to control people's attention easily, and virtually guaranteeing that they'll go into trance when you desire
 "This Training Will Take Your Personal and Professional Career to The Next Level."
"Shawn and Sarah are amazing teachers and learning CHPH has changed the way I do business."
"The training is done with a clearly identified step by step approach and the energy of the class was fantastic. This training will take your personal and professional career to the next level."
"I was able to implement the trainings immediately and whether your are looking to learn hypnosis or NLP, the International Center for Positive Change and Hypnosis is the place to go."
Joel Reyes ,
CHPH Certified Hypnotist, NLP Master Practitioner

Investment
$1997
 "They help changed my life and I am sure they will help you change yours as well"
"Being a former Marine and two time war veteran, I needed help. I tried medication and was seeing different Psychologist to help me with my PTSD and other war-related issues. After trying everything, I finally did some research on hypnosis and NLP. When I found IPCH, I spoke to Shawn and Sarah and I had an instant rapport. Their energy made me feel better and extremely comfortable feeling as if I was in good hands."
"After having a few sessions with them, I actually decided to take their courses as well. Once I learned how exactly they helped me change, I had the tools to make the changes I needed permanent and THAT was a life changer for me. Their style of teaching guarantees you learn the material on a "personal" level because they cater to YOUR needs individually, rather than teaching in mass seminars of 100 people where you get lost in the crowd."
"There are hundreds of other schools and I have contacted them all. Shawn and Sarah's "energy" just felt right. And because it felt right, it was exactly what I was looking for. They helped me expand my knowledge BEYOND what I expected, and they really helped me change my life."
"I recommend to anyone, before you even THINK about going to anyone else, MAKE SURE you go see Shawn and Sarah first because in my experience with them, I can only say you will be extremely satisfied. They help changed my life and I am sure they will help you change yours as well."
Angelo
CHPH Certified Hypnotist, NLP Master Practitioner

Your Training Schedule
Bonus weekend
This jam packed weekend will give you the skills every hypnotists needs for makeing lasting change. You will learn what hypnosis is, how to do a hypnotic "pre"talk' explaining to your client what hypnosis is while already putting them in trance, how to add convincers and "hypnotic" tests to you work, plus you will learn traditional inductions that have proven themselves irresistable to clients time and again, the Progressive Relaxation, The Elman Induction, The Betty Erickson Induction and so much more.
Conversational Hypnosis
Day 1- This action packed day will introduce you to instant inductions, the 60 Second Hypnotist, the foundations of conversational hypnosis language skills and how to "Build a Script On the Fly"
Day 2- On your second day you will begin to explore the power of memory to create trance, begin exploring the language of the unconscious mind, and how to supercharge your hypnotic influence by generating states inside of you that are irresistable to your client.
Day 3- On this day you will dive into the strategy that made Milton Erickson such an elegant change worker! You will be able to use anything your client gives you to create powerful trances that lead to change. You will never have to worry about resistance again. You will discover how we create and maintain problems so you will know who to lead clients to changing. You will also discover the PCAT formula, the structure of how to create lasting change. We will wrap up this day by laying the foundations of how to run a highly effective session.
Dav 4- Day four is all about truly covert hypnosis. You will develop the language skills that enable you to influence others and create change without them even knowing you have done anything. You will be introduced to Mind Bending Language which is the most elegant system of covert hypnosis available. This allows you to create change for your client long before the "formal hypnosis" ever takes place.
Day 5- The morning of this day is all about memory. You will learn how to do safe and highly effective regression work. You will be able to take a person back to the initial sensitizing experience and help them to clear the emotions so that the problem they were experiencing today seems to vanish like magic! In the afternoon you will uncover a sure fire process to help client resolve inner conflicts, which is involved in every problem that will be brought into your office.
Day 6- During our final day together we will put all of the peices together. You will know exactly how to run a session as well as how to know what pattern to use with a client. For those wishing to certify as a professional hypnotherapist, the certification will be on this day. We round out the day with your graduation!
How do I sign up??
To pay by credit card use our secure and convenient Paypal account below. Otherwise contact us (details below) to arrange payment by check.
Weekend Format Registration
4 weekends - Feb 1/2, 8/9, 15/16 22/23 2014
$1997
I have questions/I want to pay by check
To arrange payment using check, or if you have questions, call or email us with your preferred course and we will reserve your place until we get your check.
Contact us -
iphnewyork@aol.com
917 587 9583
100% money back guarantee up to the end of the first day of training, no questions asked.
Who Are We?
Sarah Carson
Sarah is the co-director of the International Center for Positive Change and Hypnosis. She is the co-author of "Quit: The Hypnotist's Handbook to Effective Stop Smoking Sessions," and a co-author of the "NLP Mastery Series". She is both an NLP/ HNLP and Hypnosis trainer. Sarah is a master hypnotist and NLP Master Pracitioner. Along with teaching courses in hypnosis, NLP, and HypnoBirthing, she also works with private clients specializing in fertility as well coaching professional performers. Before becoming a hypnotist Sarah was a professional educator with over 20 years of experience. She earned a Masters in Education before moving into hypnotherapy and coaching.
Jess Marion
Jess is a trainer at the International Center for Positive Change and Hypnosis. She is also the director of Philadelphia Hypnosis and the co-author of "Quit: The Hypnotist's Handbook to Effective Stop Smoking Sessions." She also a co-author of a "NLP Mastery Series." Jess is a hypnosis and NLP/ HNLP trainer, master hypnotist, NLP Master Practitioner, and Tree of Life coach. In her practice she specializes in smoking cessation and stress related issues. Before becoming a hypnotist Jess was a university instructor.